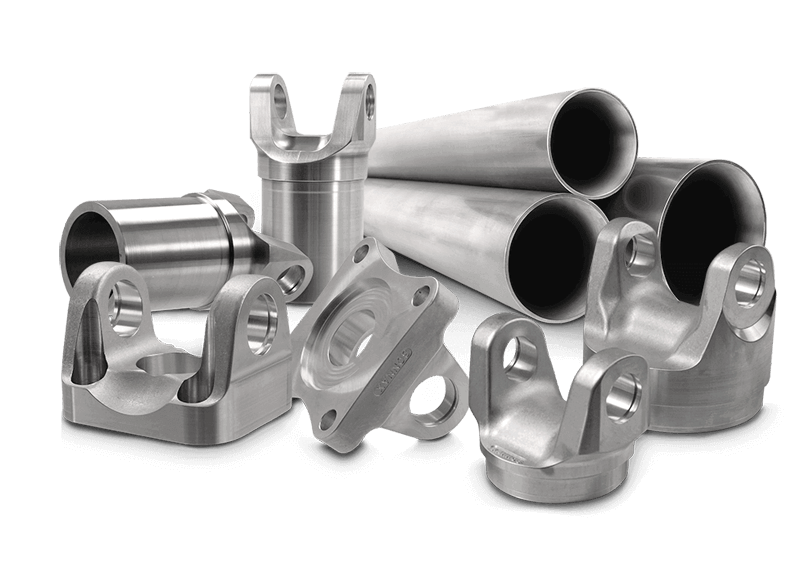 Aluminum Driveshaft Components
Sonnax engineers and manufactures the industry's finest aluminum driveshaft components, offering a wide range of precision-machined 6061-T6 weld yokes, bondable yokes for carbon fiber, lightweight replacement and custom flanges, and repair bushings. Sonnax also distributes OE-quality Alcoa® tubing.
Learn More
Get your driveshaft assembly ready to take on the toughest winter conditions!
Inspect the driveshaft

:

Check for any damage to the tube and weld yokes.
Examine the integrity of the welds in the driveshaft assembly.
Check u-joints for excessive play.
Inspect hanger bearing for any cracks or tears in bushing, and excessive play.

Recommended Upgrade: Install a one-piece 5" aluminum driveshaft built with Sonnax components to achieve superior strength and dependability.

Examine the slip yoke:

Check for wear at the u-joints and journal seal.
Confirm all bearing retainer clips are installed correctly.
Ensure the internal splines properly engage the output shaft.
Inspect the tail shaft's seal and bushing to confirm that there are no contaminants entering the transmission or transfer case which may cause damage.

Recommended Upgrade: Install Sonnax performance slip yokes to achieve greater strength, a superior seal, exceptional balance, and minimal runout.
Have questions? Contact a Sonnax Driveline representative today!
Check out our new catalog and see why Sonnax is THE destination for performance driveline components.
View all Driveline Parts