Smart-Tech® Big Input Shaft Kit
Part No. 22121B-08K
THE END of 48RE Input Shaft Failure
For drivers pushing the limits beyond 1,000HP, the ULTIMATE protection against spline twist and shaft breakage is here. Designed in fit and function to work just like the OE, the 35-spline Sonnax shaft is bigger and better in all the right places for unmatched durability in Chrysler 47RH, 47RE and 48RE transmissions.
35% Stronger than even the best heavy-duty, 23- or 29-spline input shafts
Keeps OE oil flow areas and eliminates leakage for predictable, trouble-free converter function
Easy to install, no customization or machining required
Works with any matching converter fitted with a 35-spline turbine hub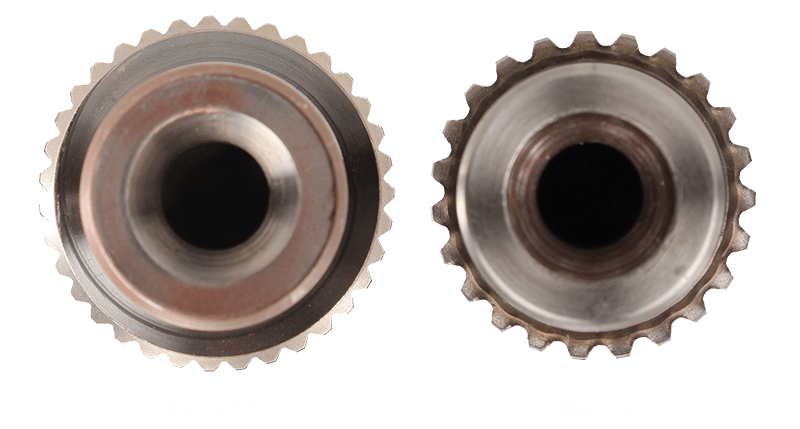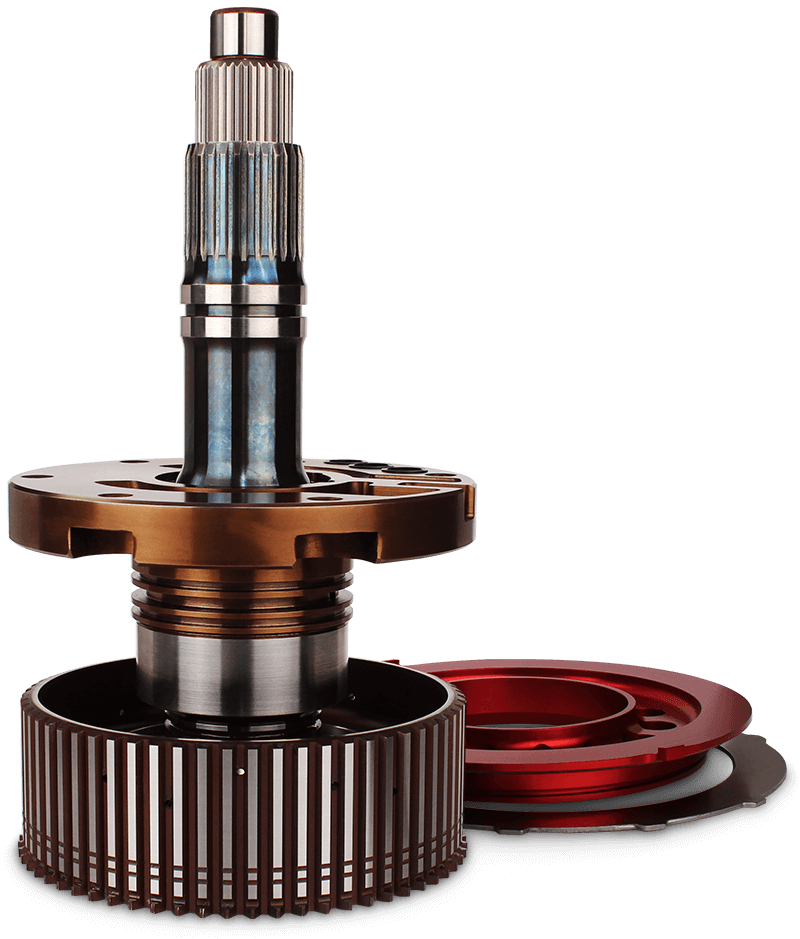 Find a Distributor
The big shaft system takes the legendary Sonnax Dodge performance shaft to the next level with top-quality components proven to easily handle even the most extreme torque and horsepower.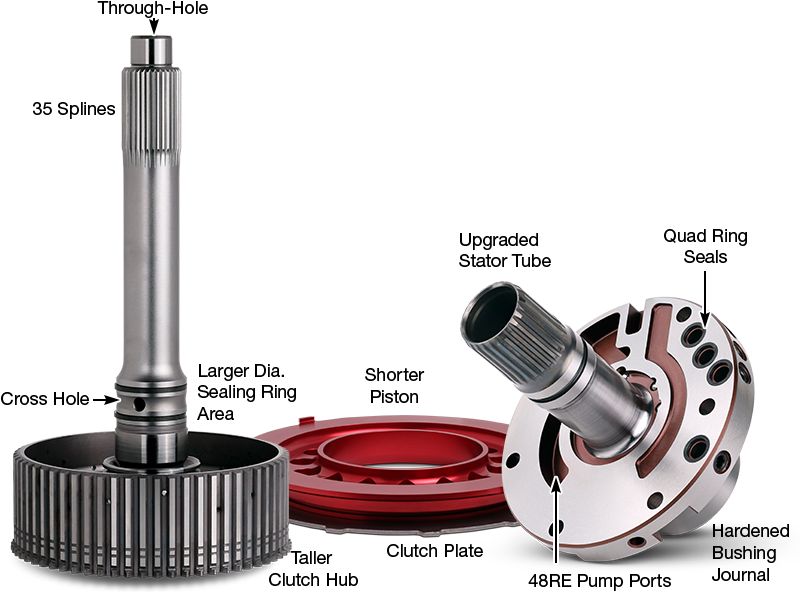 35-Spline Input Shaft
One-piece, ultra high-strength 300M billet steel forging eliminates weak connection between shaft and direct (front) clutch hub, plus ensures precise shaft/hub alignment
Rugged, fat shaft measures 1-1/8" dia. at spline end and .100" larger in diameter at sealing ring area
Through-holes and cross holes match OE design for reliable lockup, release and apply
Manufactured and tested to very tight straightness and runout tolerances
Custom Stator Assembly
Unique billet pump cover/stator machined after assembly ensures mating components run straight and true
Pump ports match 48RE design
Stator tube with stock spline at converter end features larger serrations to prevent rotation in stator body
Rubber quad rings seal oil passages between pump and stator for proper TCC function
Upgraded bushing and direct drum bushing journal add extra durability
Unique Billet Piston
Taller direct clutch hub works with shorter piston for 20% more built-in clutch capacity
Easily add one more OE-thickness clutch for a six-friction pack, no modifications required
Guarantees best combination of increased capacity and clutch durability
How to Update the Converter
Moving up to a 35-spline input shaft requires installing a 35-spline turbine hub in the converter. This is a simple change that will not affect stall speed or any other performance specs, and Sonnax offers top-quality hubs and performance converter kits that make upgrading easy. Any converter builder can assemble a new unit or retrofit an existing one with these components.
Performance Converter Kits
Solid Shafts vs. Hollow Shafts: Which are Stronger?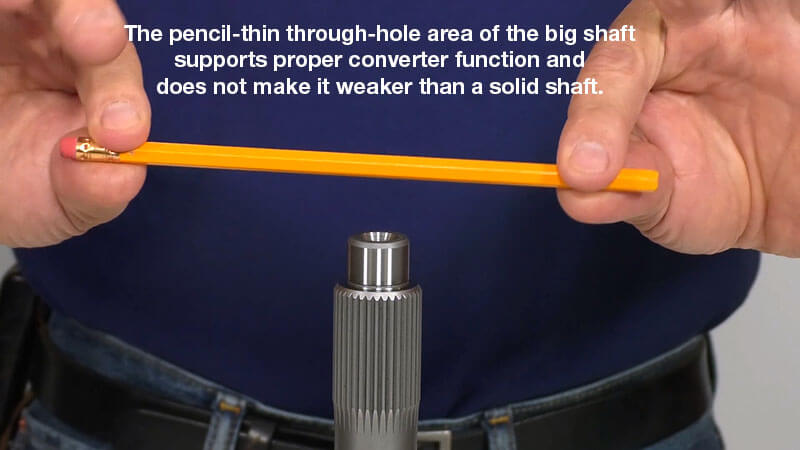 The through-holes and cross holes in Dodge shafts are designed by the OEM to optimize converter function. Some aftermarket shafts have smaller holes or are completely solid all the way through in an attempt to make them stronger. The theory is that packing more material into empty spaces makes shafts less prone to breaking, especially at the cross hole area. In reality, this is simply not true — shaft strength and durability have FAR more to do with manufacturing processes than whether there's a hole down the center. Why?
Most all the load is carried on the OUTSIDE diameter of shafts, not the inside.
Reducing cross hole size concentrates stress around a smaller area, putting shafts at MORE risk for breaking, not less.
The amount of added material on a solid input shaft amounts to LESS THAN 1% of its overall strength.
The problems you risk by changing or eliminating oil flow paths are not worth it for the tiny amount of material and torque capacity gained. Inconsistent converter release, premature clutch failure and insufficient lockup apply pressure all can be traced back to poorly-designed aftermarket shafts.
That is why all Sonnax 47RE/RH, 48RE input shafts keep the holes exactly like the OE. It is a key feature of the big shaft system that helps you confidently enhance transmission performance and in no way undermines the shaft's strength.
↑