Start Your Rebuild RIGHT by Vacuum Testing
Properly diagnosing bore wear by vacuum testing valve bodies means no wasted time and money on repairs that aren't needed or aren't working. It's an ideal technique for preventing comebacks and improving the efficiency of your operations.
Quick & Easy - It doesn't take long to become skilled at rapidly testing multiple areas.
Quantitative - Tests return a specific value that lets you establish pass/fail standards for each bore.
Reliable - Test results are accurate and repeatable when routine procedures are followed.
Economical - Vacuum testing equipment has a low initial cost to set up and is low maintenance.
Watch Vacuum Test Video Series
Learn how easy it is to put vacuum testing to work in your shop by watching these three instructional videos presented by Sonnax Tech Specialist Jim Dial.
1. What is Vacuum Testing? Video
What are the benefits of vacuum testing?
How does valve body wear lead to transmission problems?
What does vacuum testing tell you about a valve body?
How to get started vacuum testing
2. Vacuum Test Stand Setup & Calibration Video
Discover the basic equipment necessary for vacuum testing
How to set up the Sonnax vacuum test stand kit
How to calibrate the test stand before beginning to vacuum test
3. How to Vacuum Test Video
Learn proper usage of Sonnax vacuum test stand kit components.
How to use Sonnax vacuum test guides
How to establish pass/fail standards aligned with customer's needs and shop warranty requirements
Learn Everything You Need to Know About Vacuum Testing
Sonnax experts share full details and recommendations on how to master vacuum testing.
This article has also been translated into Russian and Spanish: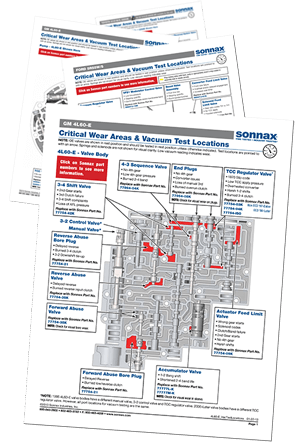 FREE Vacuum Test Guides
Learn Locations to Test for 43+ Unit Families

Identify Common Transmission Problems

Select Parts for Repairs
First you test the valve body, then you evaluate the results against your own pass/fail standards to determine if repairs are needed. Every shop will have different customers and warranty requirements, and recording results allows you to calculate an average vacuum reading for each bore, then establish a minimum vacuum standard that fits your needs.
Get Guides
---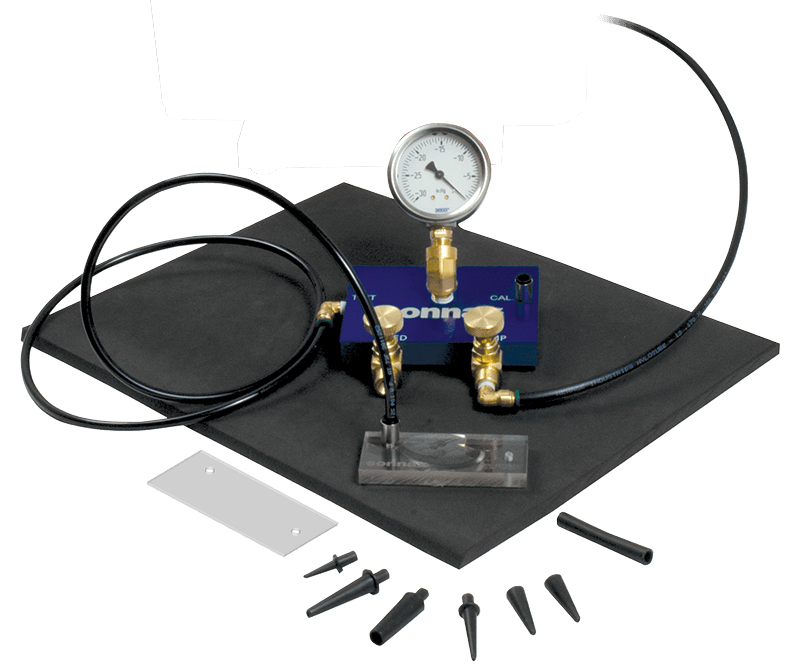 Vacuum Test Stand Kit
Part No. VACTEST-01K
Quick & Easy Setup
Accurate, Repeatable Tests
Guaranteed Sonnax Quality
Start your rebuild right with the Sonnax vacuum test stand kit. It's essential equipment for accurate, repeatable diagnosis of valve bore wear, and verifying the effectiveness of repairs.
Learn More
---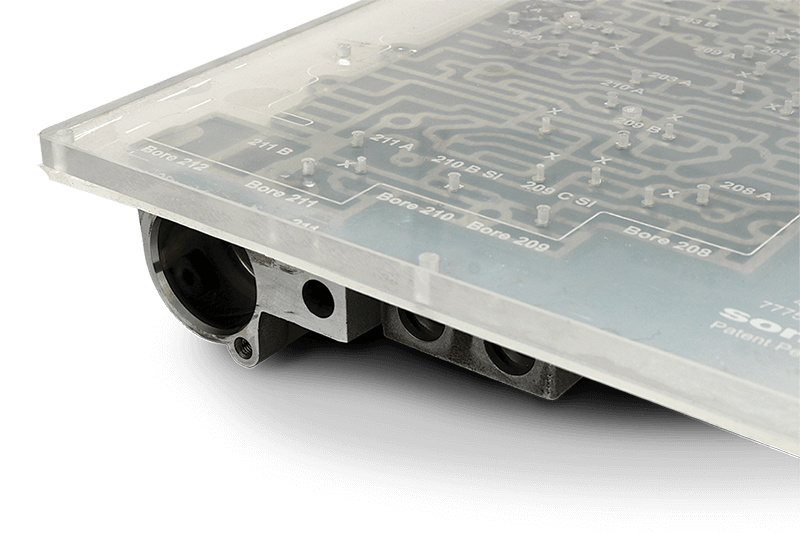 Vacuum Test Plates
Find Valve Body Problems 2X Faster
Each plate seals over the ENTIRE valve body, leaving ports open at key test areas. Easy-to-follow instruction guides identify valves, symptoms of wear and the right Sonnax parts for repair.
| Makes | Unit(s) | Part Number |
| --- | --- | --- |
| Allison | 1000/2000/2400 | 37000-VTP |
| Ford | 4R70E, 4R70W, 4R75E, 4R75W, AODE | 76948-VTP |
| Ford | 5R55S, 5R55W | 56947J-VTP |
| Ford, GM | 6F50, 6F55, 6T70 (Gen. 1), 6T70 (Gen. 2), 6T75 (Gen. 1), 6T75 (Gen. 2) | 124740-VTP |
| Ford, GM | 6F35 (Gen. 1), 6F35 (Gen. 2), 6T30 (Gen. 1), 6T40 (Gen. 1), 6T45 (Gen. 1), 6T50 (Gen. 1) | 144740-VTP |
| Ford, ZF | 6R60, 6R75, 6R80 (2009–2014), ZF6HP19, ZF6HP26, ZF6HP32 | 95740-VTP1 |
| GM | 4L80-E, 4L85-E | 34994-VTP |
| GM | 4L60-E, 4L65-E, 4L70-E | 77754-VTP |
| GM | 6L45, 6L50, 6L80, 6L90 | 104740-VTP |
| GM | 4T65-E | 84754-VTP |
| Toyota/Lexus | U660E, U660F, U760E, U760F | 47740-VTP |
---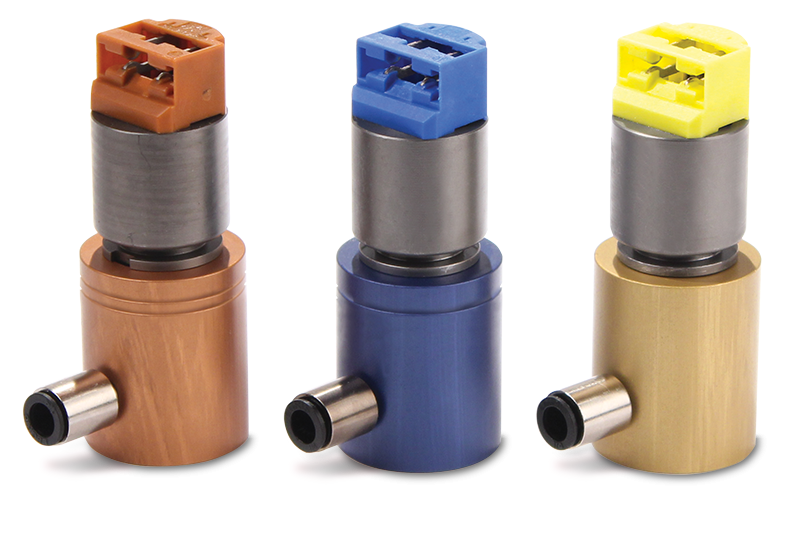 Accessories & Replacement Parts
Solenoid Test Manifold Kits
Take the Guesswork Out of Replacing Solenoids
These one-of-a-kind test kits are a quick, easy and cost-effective way to perform pass/fail verification of a solenoid's internal sealing integrity. To test, just insert solenoid snout into a matching Sonnax manifold, then connect to the Sonnax vacuum test stand.
| Makes | Unit(s) | Part Number |
| --- | --- | --- |
| Chrysler, ZF | 845RE, ZF8HP45, ZF8HP55, ZF8HP70 | 35430-VTK |
| Ford, ZF | 6R100, 6R60, 6R75, 6R80 (2009–2014), 6R80 (2015-Later), ZF6HP19, ZF6HP21, ZF6HP26, ZF6HP28, ZF6HP32, ZF6HP34 | 95430-VTK |
Test Stand Kit Replacement Parts
A tight seal on every piece of equipment is critical when vacuum testing. These parts replace lost or worn-out components from the Sonnax test stand kit.
Find a Distributor