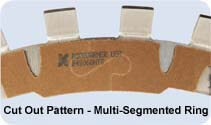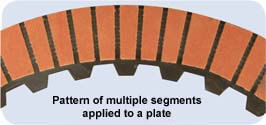 These rings can be a pattern of cut-out sections of what is – in effect – a circular ring, or simply a pattern of small segments applied to a plate surface.
Multi-segmented designs take friction rings to the next level. A solid ring surface has limitations both in oil flow potential during release and oil displacement at the time of apply. Combined with cutting-edge friction materials, multi-segmented rings deliver improved performance and reduced drag for improved fuel economy. BorgWarner is a leader in this emerging technology that is gaining increasing use throughout the industry.
No worries.
You have likely already driven a vehicle using multi-segmented friction technology. Do you worry about driving around on a friction plate like the one shown above?
Of course not. It's made by the same folks who brought you this: